Clow Valve Teaches Future Business Leaders about the Industry
May 4, 2015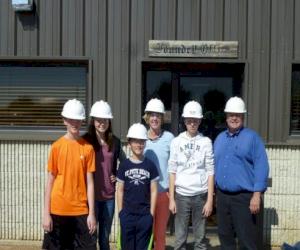 Last month Molly McCaulley, a teacher of the local Talented and Gifted students, started a new project to encourage students to get involved in the community.  Molly met with the Oskaloosa Chamber and Development Group to discuss the Rebranding of Osky that was started earlier this year.
They wanted to get the talented and gifted students involved in the planning phase on how to best present Oskaloosa to others in the community and elsewhere.  They also wanted the students to contact various local businesses and people in leadership positions in the community to educate them about the available job opportunities.
Because they are such an important industry in town and provide so many jobs opportunities for the Oskaloosa community, Clow Valve was chosen as one of the contacts.  Molly wanted the students to gain a better understanding about what happens inside the foundry and John Grahek, Assistant MCF Manager, did a great job of explaining the processes that take place inside Clow.
We were glad to have the opportunity to showcase our facility and educate the students about the great opportunities at Clow Valve.  These students are our future after all.