Clow Water Team Recycles Soda Tabs to Support Ronald McDonald Houses
April 30, 2013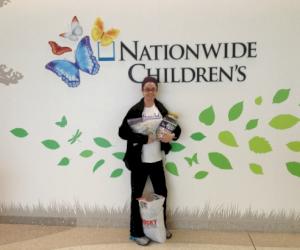 (Pictured: Morgan Bradford, daughter of Clow team member Emily Bradford)
At McWane we're all about recycling!  If there's a way something can be recycled, we'll find it.  We as a society benefit greatly from recycling, but we all have to do our part, both on the job and off. As part of their recycling efforts, Clow Water began collecting pop tabs from soda cans to support the Ronald McDonald House Charity (RMHC) and Morgan Bradford, daughter of Emily Bradford, hand delivered the tabs to the RMH at Nationwide Children's Hospital in Columbus, Ohio.
What do pop tabs from soda cans have to do with RMHC you ask?  According to their website, the RMHC collects pop tabs instead of entire aluminum cans because it's more hygienic to store tabs than cans, and collection and storage is easier. If the local Ronald McDonald House participates in the program, chances are there're cardboard collection containers in the shape of a house at the local schools, community centers, etc.  After the tabs are collected, the local RMHC Chapter takes the collection to the recycling center, where they are weighed to determine their value. The recycling center then sends the local RMHC Chapter a check for the total value. If you're thinking, this can't make a difference, consider this.  While it does vary by Chapter, RMHC Upper Midwest raises approximately $30,000 a year through their pop tab program.
Atlantic States is also collecting pop tabs in support of the RMHC.  Over the years, the RMH has provided thousands of families a place to stay while their children were receiving much needed medical care.
Great job everybody.  Remember, together we can make a difference!