Could you ride a bicycle for 420 miles?
August 23, 2016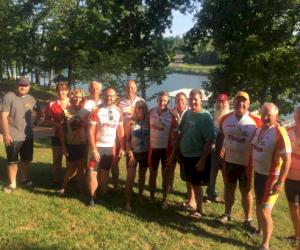 In the early 1970's, Des Moines Register newspaper editor John Karras challenged fellow reporter Don Kaul to ride his bicycle across Iowa and write columns about what he saw along the way.  Kaul accepted the challenge on one condition, that Karras join him for the ride.  They asked a few friends who asked a few friends and around 300 people showed up for the start of the ride in Sioux City, Iowa and 114 riders made it the entire distance that first year.  This one ride started a tradition that has grown to become the longest (420 miles), largest and oldest bicycle touring event in the world known now as the Registers annual Great Bike Ride (RAGBRAI). 
We are proud to report that McWane Ductile-Ohio General Manager Tom Crawford (pictured eighth from the left) rode in the 2016 race!  The ride takes place over several days and Mike Vore, Valve & Hydrant National Sales Manager (pictured in green shirt) was kind enough to offer a meal and a comfortable bed at his lake house to Tom and a group of riders from Indiana. Mike treated them to a wonderful meal of pulled pork and pasta and had a relaxing fire in the fire pit. 
Tom said, "It was certainly the best and most comfortable overnight stay of our entire week.  Thank you Mike for being such a gracious host!"