Creative Ways to Beat the Heat in Tyler, Texas!
August 20, 2015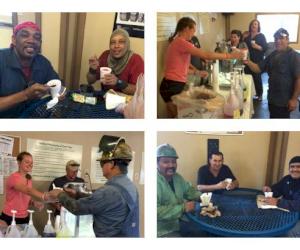 Temperatures in Tyler, Texas have been in the triple digits for three weeks now with record temperatures topping out at around 108 degrees!  Tyler Pipe has creative ways to minimize the effects of the heat like transitioning over to summer hours where the foundry goes dark from 3:00 p.m. through 7:00 p.m. which nullifies production during the heat of the day as well as other ideas like providing Squenchers popsicles so our valued Team Members can rehydrate and replace some of the electrolytes they sweat out.
One of our Tyler Pipe Utility Supervisors, Ross Caldwell had a great idea on to beat the heat.  He has a snow cone machine that he brought up to Tyler Pipe.  It shaves the ice and they place a little syrup on top and there is no more enjoyable way to enjoy the summer weather than with a cold snow cone.
They had folks leaving the North Plant breakroom with both hands full of colored, flavorful ice.  Great idea Ross, stay cool!