David Cleveland retires after 40 years of service at Tyler Union
August 16, 2017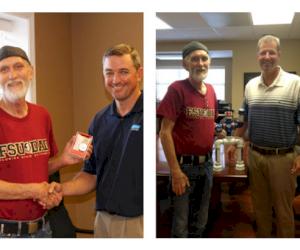 (Pictured L-R: David and Plant Manager Jon Pollard; David and Assistant General Manager Steve Johnson)
Tyler Union (TU) team members bid a fond farewell to David Cleveland this summer. David retired from TU in Anniston, Alabama this summer after 40 years of service.  That's four decades!  He began his career at TU (formerly Union Foundry) in 1976 as a draftsman in the sales department and later transferred to the engineering department in 1997.

David is recognized as a meticulous engineer, but he is also known for his green thumb and wood working abilities. Most everyone who knows David either has a plant he's given them or a beautiful wood carving he made for them. He even grafted or crossbred some of the plants trying to create a special hybrid that he thought would be significant to the recipient.  In addition to being an engineer, a horticulturist, a wood carver, and we're now learning, a talented story teller, he is known to fellow team members as a "lost child of the '70s." That nickname came from a young engineer by the name of Steve Johnson who starting working at Tyler Union in 1997 under David's guidance.  As we know, Steve is now the General Manager at Tyler Union.

We wish David the very best for a long and happy retirement. Or as they would say in the 70s, Keep on Truckin' David.