Did you know today is World Water Day?
March 22, 2017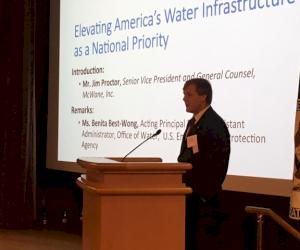 Today is World Water Day and McWane team members reaffirm our commitment to help rebuild a sustainable infrastructure worldwide that will provide safe drinking water for generations to come. In the last McWane magazine, President Ruffner Page said, "The nation is at a pivotal point in deciding what to do about our infrastructure, especially water.  The incoming Trump Administration has said that it plans to spend $550 billion over the next decade."

McWane has played a critical role in delivering clean, safe drinking water around the world since 1921 by producing ductile iron pipe made from 100% recycled scrap iron and steel that lasts 100+ years.  But our work is not done.  The water infrastructure that was installed by our great grandparents and grandparents is reaching its breaking point and needs to be replaced. 

As we celebrate World Water Day today, our own Jm Proctor spoke at the U.S. Water Partnership (USWP) meeting in Washington, D.C.  Jim was one of several speakers stressing the importance of elevating America's water infrastructure to be a national priority.

As famous singer Bob Marley said, "You ain't gonna miss your water until your well runs dry." McWane stands ready to work together with communities and municipalities to address their infrastructure needs that will assure generations to come that they will have safe drinking water.