Don Nagles retires from Atlantic States after 27 years of service
May 20, 2013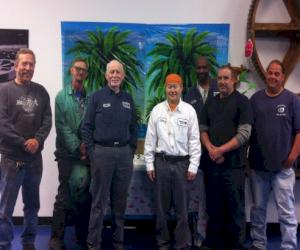 (Pictured L-R: Mold Shop team members Glenn Gucwa, Bud Lamberg, Don Nagle, Chris Cheah, Paul Fisher, Jeff Weaver and Henry Stetler)
After 27 years of service, Atlantic States bid farewell to fellow team member and friend, Don Nagle. They held a party for Don meant to resemble the start to his new life long vacation which will include lots of yard work and completion of some long awaited home renovations.
Don was a member of Mold Shop team and has mentored many of the current team members at Atlantic States.
Don was a great asset at Atlantic States and he will surely be missed!