Freshwater Land Trust Presents Plaque of Appreciation to McWane, Inc.
April 23, 2013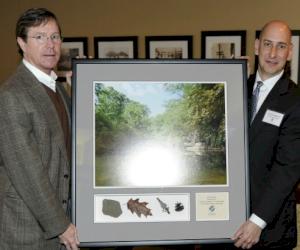 McWane President G. Ruffner Page, Jr. Accepts Plaque of Appreciation
McWane, Inc. is a Corporate Partner with the Freshwater Land Trust ("FWLT") based in Birmingham, Alabama.  The FWLT is a non-profit organization dedicated to preserving Alabama land of exceptional and irreplaceable natural, cultural and recreational value, with a focus on acquiring and protecting lands that enhance water quality and preserve open space.  McWane President, G. Ruffner Page, Jr. serves on the FWLT President's Advisory Council and Jim Proctor is a member of the FWLT Board of Directors.
At a recent meeting FWLT Board Chairman Michael Sznajderman presented McWane, Inc. with a plaque of appreciation which included a site photograph and unique encased artifacts.  The funding the FWLT receives from Corporate Partners is used to acquire property and provide recreational opportunities for generations to come.
McWane also serves on the steering committee for the Champions of Village Creek, an ambitious group of business leaders, neighborhood association presidents and other non-profits working to develop trails along the creek.  They are committed to engaging and educating the community in the development of a series of parks and greenways along Village Creek with a goal of improving water quality and quality of life for the community. McWane made great strides in achieving this goal when they built Greenwood Park last year just off Interstate 20/59 between Tallapoosa and Coosa Street.
Greenwood Park has a natural stormwater collection and treatment system lined with native shrubs and grasses – recommended by the Freshwater Land Trust.  These features filter stormwater from nearby surfaces that pass through the park on the way to Village Creek.  This park not only provides recreational opportunities for nearby residents, but also improves the water quality of Village Creek.
McWane is proud to be a partner with the Freshwater Land Trust and appreciates the opportunity to give back to the communities where our team members live and work.