Front line supervisors at Tyler Union attend leadership training
April 5, 2017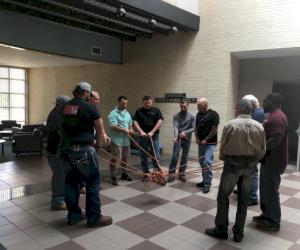 Tyler Union's goal is to have effective leaders that can set goals and inspire others to achieve those goals. To assist them in this initiative, they contracted with the Alabama Technology Network (ATN) to provide leadership/supervisor training for all of their front line supervisors.  The first class was held off site at the Ayers Campus of Gadsden State Community College.

The training required the group to work through several practical exercises.  Working together they were able to complete the exercise while learning the advantage of working together to achieve a common goal.

This training today will help them be more effective leaders in the future.