Gopi Ramanathan showcases McWane products at Confederation of Indian Industry event
June 6, 2016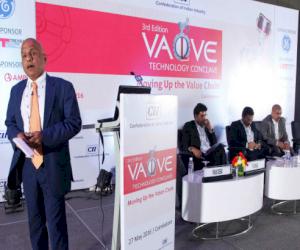 The Confederation of Indian Industry (CII) invited industry professionals to participate in the Valve Technology Conclave to discuss the tremendous growth in the infrastructure in India. Gopi Ramanathan represented McWane Services Private Limited at the event which was attended by senior business leaders from Cameroon, Schlumberger, Circor, GE Water and many other water, oil and gas company boards in India and abroad.
Gopi showcased the McWane product lines and fielded questions from the audience. Many water board participants expressed an interest in the water monitoring and metering system which McWane plans to introduce in India.
CII is an association of Indian businesses which works to create an environment conducive to the growth of industry in the country. It is a non-government/non-profit organization led and managed by industry professionals and plays a proactive role in India's development process. CII has over 7,200 members from the private and public sectors, including small to medium size enterprises and multi-national corporations, and an indirect membership of over 1,000,000 enterprises from around 242 national and regional industry sectors.