Harry Ledgerwood Retires After 43 Years of Service at Tyler Coupling
June 10, 2013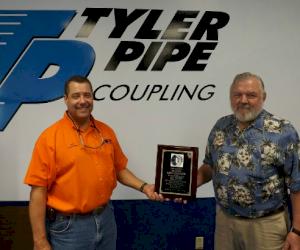 (Pictured from L-4: Tyler Coupling Plant Manager Bill Hoffman and Harry Ledgerwood)
Tyler Coupling team members, management, retirees, vendors and friends all came together at a retirement reception on June 7 to wish Plant Engineer Harry Ledgerwood a fond farewell.  Harry retired from Tyler Coupling after 43 years, that's 11,300 days, of service.  Plant Manager Bill Hoffman presented Harry with a plaque, a watch and a Tyler Pipe coupling in appreciation for his many years of service.
Harry started his career at Tyler Coupling at the age of 23 as a Tool and Die Maker on the second shift.  Over the next 43 years he worked as a Tool & Die Foreman, Tooling Engineer, Chief Engineer and he finished his career at Tyler Coupling as the Engineering Manager.
Under his direction, Tyler Coupling installed their first pre-assembly machines made by a company located in Arkansas.  This same company later built their first pre-torque machine.  Both of these machines have been enhanced over the years and are still in service today.  In fact, Tyler Coupling is the only coupling manufacturer that machine assembles 1-1/2" thru 4" couplings.
Over the years Harry has been at the center of many changes at Tyler Coupling.  The air feeders which feed the steel into the pre-assembly machines were designed by Harry.  When cost cutting was needed, Harry led the team that figured out how to produce their own screws.  To save on material usage instead of shaving the material to create the grooves, the grooves were rolled into the screw.
When Tyler Coupling began producing hub gaskets for their couplings in 1986, they used plastic molding machines converted to run rubber.  Again, to cut the cost of producing no hub gaskets, the "Green Monsters" were replaced with new technology.  They got their first Maplan machine in 1999 and they not only increased production, they were able to decrease the number of team members required for the job and the work environment improved.  Harry made several trips to Austria over the years to inspect and approve each Maplan machine before it shipped.  They now have 8 Maplan machines with another one on order, but with Harry gone they're on their own with this one.
During his tenure at Tyler Coupling, 493,051,096 couplings and 29,289,141 Tyseal, EZ Tight and MJ etc. gaskets have been sold.
We wish Harry the very best.  He will surely be missed!