Have you ever tried to play golf with one hand tied behind your back?
July 14, 2016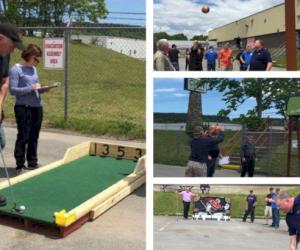 On June 23, 2016, Clow Canada in Saint John, New Brunswick celebrated EHS/HR Awareness Day with a team luncheon and lots of educational games.  General Manager Rick Benoit reviewed the results of the recent peer reviews with the team and talked about the team town hall meetings. They also reviewed the new Employee Assistance Program. 
The day finished up with four outdoor activities that were focused on safety the demonstrated how even a small task would be difficult if they lost their sight or a limb.  The activities consisted of eye patch basketball, one-legged golf putting, one armed hockey shooting and a Safety Habits Challenge.  Team members were very surprised how these seemingly simple tasks became much more difficult when presented with these challenges.  Team members submitted a ballot for each activity they competed for a chance to win the grand prize, a paid Friday afternoon off work. 
Everyone had a great time and left with a better understanding of why we need to do it safely, or not at all.