It's that time of year again at M&H Valve
August 12, 2015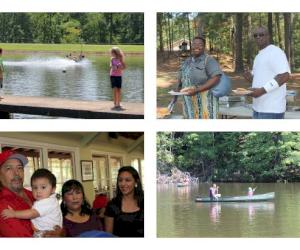 M&H Valve held their 11th Annual Team Picnic on August 8 at Camp Lee in Anniston, Alabama.  It was a beautiful day for a picnic with lots and lots of sunshine and laughter.
Both the young and the young at heart enjoyed riding the zip line and cooling off after landing in the lake at the end of the line.  Attendees could go fishing, swim in the crystal clear pool, canoe or jump in the bouncy house.
Camp Lee personnel prepared a delicious lunch including fried catfish, chicken fingers, hamburgers, hotdogs, plus all the "fixins".  It's safe to say no one left hungry.
Everyone had a great day and is looking forward to celebrating again same time next year.