Kennedy Valve Hosts Rollover Car Demonstration
July 8, 2015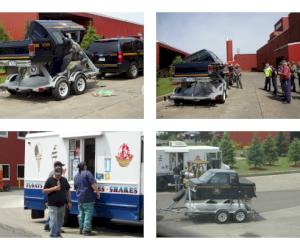 Kennedy Valve wanted to show team members the implications of not paying attention when driving and not wearing a seat belt so they contracted with New York State Trooper Kevin Morrissey and New York State Trooper Brandon Conley to come out for a rollover car demonstration.  The troopers were happy to answer any questions team members had about the demonstration.
As you can see in the photos, a rollover crash can cause severe injuries or even death.  That's why it is imperative that you ALWAYS wear your seatbelt and never take your eyes off the road.  It could save your life and the life of a loved one.
After the demonstration, team members were treated to ice cream.  It was the perfect way to cool off on a hot summer day.