Kennedy Valve Joins Local Organizations to Build a New Playground Just in time for Summer
June 1, 2015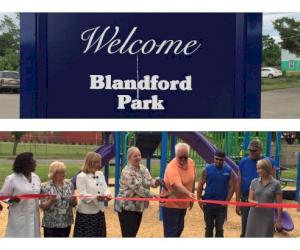 McWane's many divisions sponsor and fund many projects on their own, however, on occasion that will partner with other organizations for the good of the community.  Recently, Kennedy Valve had the opportunity to work with area Elmira, New York organizations to build a new playground that children in the neighborhood surrounding Kennedy Valve will be able to use this summer!
Blandford Park is located on Judson Street across from Kennedy Valve so the city approached Kennedy early on in the design phase. The new equipment will provide a safer and cleaner park for all to enjoy. The equipment was installed using volunteers from the local BOCES Tech School and was finished in early May.
Several local business representatives attended the ribbon cutting ceremony and celebration for the new playground took place on Wednesday, May 27.