M&H Valve Holds Employee Appreciation Day
May 11, 2015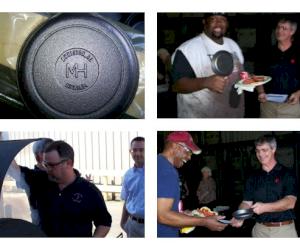 Last week, M&H Valve held their annual Employee Appreciation Day and Tony Orlowski handed out custom made M&H cast iron skillets to all employees.
Josh Gunning did an excellent job cooking 300+ hamburgers for everyone. You could see on the faces of most employees how appreciative they were of the meal and the keepsake skillet.  Most of us know how to cook and care for a cast iron skillet so these should be in the family for generations to come.
We appreciate the work that you do each and every day to produce products that make up the backbone of vital water distribution.