M&H Valve Proudly Sponsors Boys & Girls Club of Central Alabama
August 19, 2013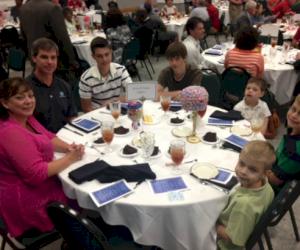 (Pictured: M&H General Manager Tony Orlowski and his wife Kim and their five children, Keith, Jackson, James, Josh and Daniel)
M&H Valve enjoys a longstanding tradition of supporting the Boys & Girls Club of Central Alabama. This year, M&H General Manager Tony Orlowski along with his wife Kim and their five children, Keith, Jackson, James, Josh and Daniel attended the annual Shake & Steak dinner on behalf of M&H.
The guest speaker at the event was Coach Anthony Grant, Head Basketball Coach for the University of Alabama in Tuscaloosa.  Roll Tide!
After 110 years, the Boys & Girls Club remains a place where children can feel safe, loved and can develop into successful adults.  In fact, plans are in the works for a much needed Teen Center. M&H is proud to have the opportunity to help with the development of children that might otherwise have a much diminished chance at a productive life.