M&H Valve Team Helps Raise Money for American Cancer Society
June 11, 2013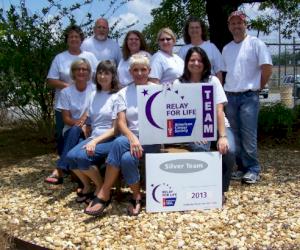 M&H Team 2nd Chances
Several M&H Valve team members recently had the opportunity to participate in the 2013 American Cancer Society Relay for Life fundraiser.  In only 90 days the M&H team known as the 2nd Chances, were able to raise $4,700 to help in the fight against cancer.
To raise the money they held fundraising events including a bake sale, an iPad raffle, a sack lunch sale (food donated by Dreamland BBQ) and a Rummage Sale at the McClellan Medical Complex.  The 2nd Chances team also staffed a tent overnight at the McClellan Soccer Complex on Friday, May 10.  After sunset, paper sky lanterns were lit in honor or memory of loved ones that had battled cancer and adorned the skies over Anniston, Alabama.
Thank you to those who worked so hard to make this first event for the 2nd Chances team a successful fundraiser for the American Cancer Society.