Manchester Tank Crossville (MTC) holds 2016 Service Awards event
January 16, 2017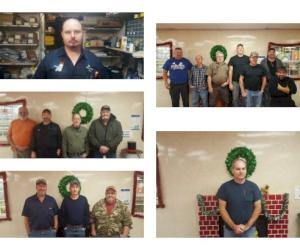 McWane is extremely proud that we have hundreds of team members that have been with the company for decades, and every year we make a point to recognize them for their dedicated service.

Manchester Tank & Equipment Company in Crossville, Tennessee (MTC) recently recognized their team members at a Service Awards event (pictured from L-R, top to bottom).

10 years - Chard York;
30 years - Terry Goss, Gary Platz, and Wade Hassler;
35 years - Jimmy Dixon, Ralph Gibson, Richard Mullinax, and Vernon Dixon;

Perfect attendance - (back row) Scott Burgess, Richard Standefer, Michael Kirby, Billy Crouch, James Tanner, (front row) Randy Hall and Doug Lewis; and Ray Norrod

We appreciate their many years of service and the commitment of the team members that achieved perfect attendance in 2016. Attendance is among the 10 employee work ethics most valued by employers, according to Tennessee Technology Center at Hartsville.  In fact, one worker's absence can sometimes disrupt production schedules.