Manchester Tank Quincy celebrates EHS/HR Awareness month
July 14, 2016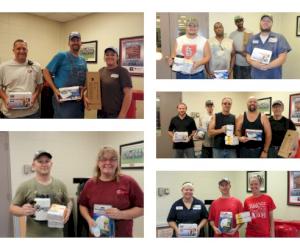 Manchester Tank Quincy joined the other McWane facilities to celebrate EHS/HR Awareness month.  They held several activities to heighten team awareness about the importance of working safely each and every day and the benefits of being an environmentally friendly business.  They held weekly drawings for EHS items that can be used at home like fire extinguishers, CFL light bulbs, first aid kits, smoke/carbon monoxide alarms and weather alert radios.
The winners for the month pictured from left to right :
Week 1 (top left): Ritchie Uppinghouse, Roger Stumb, Tracy Logsdon and (bottom left) David Mith and Theresa Francis.
Week 2 (top right): Derrick Wade, Anthony Williams, Stevie Watt,  Michael Epping and Dakota Spangler (not pictured)
Week 3 (middle right): Dustin Shultz, Kody Pepper, Charles Hecht, Joseph Donelson, and Lawrence Hildebrand
Week 4 (bottom right): Heather Rudd, James Thomas, Stacy Kaltenbach, Nick Hankins (not pictured,) and Mike Brooks (not pictured)
Congratulations to all the winners!