Manchester Tank Quincy holds Safety Awareness Day
May 18, 2017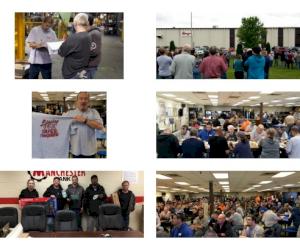 Manchester Tank located in Quincy, Illinois recently held a Safety Awareness Day. This day was focused totally on the health and safety of the entire team.  Production, including shipping and receiving, was shut down for the event and to make the day fun as well as informative they had 160 drawings for prizes throughout the day, but team members were required to be at work to win.  Prizes included hats, shirts, can holders, Yeti cups, a voucher for safety shoes, a gift certificates for a local restaurant, a special Manchester Tank burn pit and a $100 tool set.

Everyone met that morning in the café with General Manager, Corrie Eifert. Corrie reminded everyone why it is so important that they work safely every day and EHS Manager, Rick Nesbit announced the schedule of events for the day. Throughout the day the safety department conducted unannounced fire evacuation drills and severe weather drills for both shifts. In another drill, 3-4 team members were assigned to areas where they did not work in the plant for 2 hours. They graded the area and identified hazards such as machine guarding issues, trip hazards, electrical issues, and recorded the grade on a scorecard.  Blessing Hospital gave a presentation on the importance of proper hydration and the symptoms to look for during the summer.

Team members also reviewed why it is important to follow the Job Safety Analysis (JSA) for every job. After the day's events, they reconvened in the café where they were given an opportunity to provide feedback on the event. The Safety Department will compile a list of the findings and issue work orders to resolve any issues found. 

The day was very well received and team members were engaged and were attentive during the presentations. They enjoyed their lunch of roast beef, cheesy potatoes, green beans, rolls, cheese cake, cookies, with tea and lemonade and they really liked all of the prizes that were given away during the course of the day.