Manchester Tank Quincy Sponsors Participants for 14th Annual Raider Classic 5K Run/Walk and 10K
June 29, 2015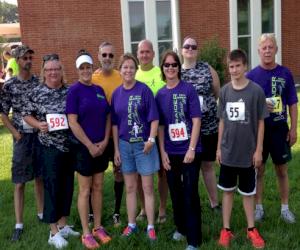 When he's not working at Manchester Tank & Equipment in Quincy, Illinois (MTQ) as an Environmental Engineer, Andy Edgar, in his spare time, is head coach of the QND Raiders High School running teams.  To support Andy and the local high school, MTQ sponsored 10 members in the 14th Annual Raider Classic 5K run/walk and 10K run held on Saturday, June 27.
Running in the event (pictured from left to right) were Dave Schmelzle, Rhonda Schmelzle, Tracy Logsdon, Bill Robb, Brenda Schneider, Jimmy Grawe, Joyce Klingele, Molly Kindhart, Dax Grawe, and Mike Holman.  Bill Robb placed 1st in his age group for the 5K run and Mike Holman placed 2nd in his age group for the 10K run!
Andy was very grateful for MTQ's support for this event.  Not only will the funds raised help his teams purchase equipment and uniforms, they will also be used to support QND's band, choral group and wrestling departments  as well as the start- up of a local grade school running program.