Manchester Tank Quincy Team Celebrates Earth Day
April 27, 2015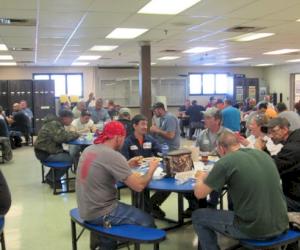 To celebrate Earth Day this year, Manchester Tank & Equipment located in Quincy, Illinois (MTQ) held a hog roast using money raised through their plant recycling program which includes aluminum cans, scrap wire and scrap weld tips.  Team members feasted on pulled pork sandwiches, cheesy potatoes, baked beans and oreo fluff.
MTQ embraces the slogan of Reduce, Reuse and Recycle.  E-waste, cardboard, paper, light bulbs, copper, brass and batteries are some of the many items that are recycled every day at MTQ.  Oil absorbent mats are sent out for cleaning and then reused and hazardous waste, used oil, waste powder paint and other wastes are carefully and properly disposed of.
In addition, MTQ continues to stress the importance and benefits of reducing the amount of waste the plant produces.   The Earth is our most important natural resource, and MTQ wants to do its part so it continues to be green.