Manchester Tank-Quincy Team Volunteers for Clean-up after Storm
July 30, 2015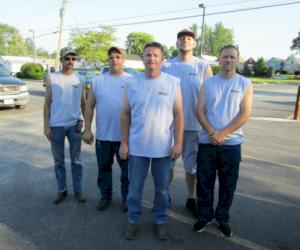 (Pictured left to right: David Schmelzle, Michael Maas, Scott Jones, Jerrod Cox and David Bergherger Jr.)
On July 16, Quincy, Illinois was hit by straight-line winds topping 70 MPH. The effects were devastating resulting in limited access or interruption of emergency services and power and vast property damage. While access to emergency services and power has been restored, a massive effort continues to clean-up the storm debris.
The City of Quincy, Adams County Emergency Management and the United Way coordinated a corporate day to assist with the removal of debris from yards.  They asked each company to provide 3-5 employees to help with the cleanup on July 23rd from 8 AM 5 PM.
Several Manchester team members signed up to help and 5 team members were selected from that pool of volunteers.