McWane Ductile leads lunch and learn event at Cobb County Marietta Water Authority
July 31, 2017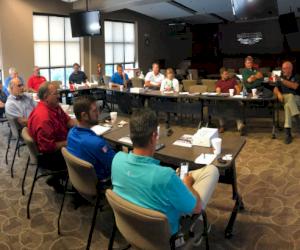 We are pleased to report that a visit by professionals from the Cobb County Marietta Water Authority (CCMWA) to our McWane Ductile facility located in Coshocton, Ohio resulted in a lunch and learn event led by MDO personnel.  The event was held on July 26 in CCMWA's board room.

CCMWA Project Engineer Chris Dillard and his associates were so impressed with the continuous improvement (CI) event room at MDO that they wanted to learn more about MDO's program.  Brian Richard, Sales Representative for Georgia, arranged for the MDO team to present their best management practices to a group of twelve CCMWA managers.

This is the first time Jim Loos, Senior Strategic Manager and Conner Mitchell, CI/SPC Manager have presented the CI system to anyone outside McWane Ductile. Jim encouraged the attendees to involve their employees in the process saying, "Have your people express their ideas for improvement, and then reward their good work."  He also described some of his own successes and how they achieved that success.

CCMWA is a wholesale supplier in the Atlanta metro area with about a dozen municipal customers.  They recently expanded by building a second water treatment plant and foresee future growth.  Consequently they have added staff and see the need for better quality control methods.  Chris believes the information provided by the MDO team will help them implement processes that will be the key to offering the best customer service as they continue to grow. 

We are proud of Jim and Conner for their contribution to bringing the McWane culture of improvement to CCMWA and the water industry.