McWane Ductile-New Jersey bids a fond farewell to Charles Sanguinito
January 25, 2016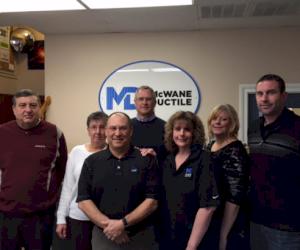 (Pictured from L-R: Fran Tone, Ramona Bruch, Gary Kurtz, Chuck Sanguinito, Joyce Hill, Vicki Gallagher and Benjamin Leonard)
 The McWane Ductile-New Jersey team bid a fond farewell to Charles Sanguinito on January 22.  Chuck is retiring after 13 years of service as the Outside Sales Representative for New Jersey and Delaware. 
Chuck is a graduate from Clemson University and worked at Ingersoll Rand for many years before joining the McWane Ductile-New Jersey team. He is very personable, always smiling and we are really going to miss him.
Best of luck for a happy and healthy retirement Chuck!