McWane Ductile-New Jersey Honors Local Students at Annual Scholarship Dinner
August 12, 2015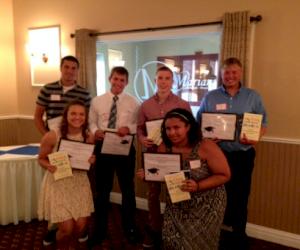 On Wednesday August 5, 2015, the McWane Ductile-New Jersey Community Advisory Panel (MDCAP) held their annual scholarship dinner for the recipients of the 2015 MDCAP scholarships and their families.  This year's winners are Stephen Friedman, Arshdeep Hanjra, Marissa Ciara Hoenig, Richard Connor McCormick, Daniel Schaare, Carissa Thompson, Fhatuma Camara and Stephen Hoyd.  Six of the students attended Phillipsburg High School and two attended Warren County Vo-Tech.  These scholarships will help them further their education at a college or vocational school of their choice.
The winners were also given their own copy of two books (Algebra in Words and Grades and Money and Health) written and published by Greg P. Bullock, the son of a MDCAP board member.  Each year Greg takes the time to write a personal note in the book for each student and attends the scholarship dinner to talk to the students.
They also had a special guest at the event, Alyssa Longacre.  Alyssa was awarded a MDCAP scholarship in 2012 and she now entering her senior year of college.  She has also been working as an intern in the MDNJ Human Resources department this summer. She shared her college experience with the students and offered her own advice on how to survive college living and choose a career path.
Congratulations to the 2015 MDCAP scholarship winners!