McWane Ductile–New Jersey (MDNJ) Comes to the Rescue of a Neighbor in Need
July 14, 2015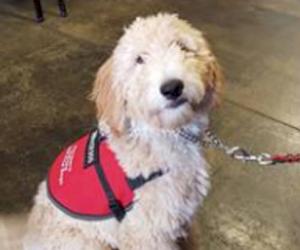 MDNJ recently launched a fundraising campaign to help their neighbor, Eric Nelson, who suffers from psychological non-epileptic seizures similar to epileptic attacks which cause changes in behavior, movement, sensations and consciousness.  Eric also suffers from Post-Traumatic Stress Disorder (PTSD).
Eric had a service dog (Homer) that was trained by Northern Indiana Service Dogs located in Plymouth, Indiana, but his best friend and safety guard passed away and Eric is now confined to his apartment.  Homer was trained to alert Eric when a seizure was coming and Eric could prepare himself.  Homer's replacement, Wrangler, a 5 month old Golden Doodle, is currently being trained for Eric and he needs to raise the money to pay for the training.
MDNJ has agreed to donate $10.00 for every $1.00 donated by team members.  Their goal is to reach $6,000 which will go directly to Northern Indiana Service Dogs. This money will help pay for the training and will fly Eric to Indiana to train with Wrangler one-on-one.
A special thanks to the MDNJ team members that made a donation to help a neighbor in need!