McWane Ductile New Jersey named VPP merit site
June 22, 2017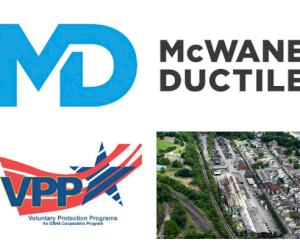 We are excited to announce that McWane Ductile New Jersey, located in Phillipsburg, New Jersey, has earned OSHA VPP Merit status.  This is a phenomenal accomplishment. 

McWane Vice President of Health & Safety Barb Wisniewski said, "OSHA's VPP designation demonstrates exemplary performance in the areas of management commitment, employee engagement, hazard recognition and analysis, and employee training."

During the week-long visit by five OSHA personnel and one SGE (Special Government Employee from another industry), MDNJ was evaluated through a full-scale inspection, pages of document reviews, and dozens of employee interviews. 

MDNJ joins McWane Ductile Ohio, McWane Ductile Utah, Manchester Tank Elkhart, Clow Valve Oskaloosa, and Tyler Coupling as VPP sites.

Congratulations to the entire MDNJ team for your commitment to excellence in achieving this coveted status.