McWane Ductile-New Jersey Team Celebrates Earth Day with Children at Firth Youth Center
April 23, 2015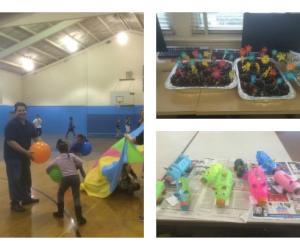 (Pictured MDNJ HR Manager Paul Carbo)
To celebrate Earth Day this year, the Recycling Committee at McWane Ductile–New Jersey (MDNJ) planned an Earth Day event at Joseph H. Firth Youth Center located in Phillipsburg, New Jersey. For their event, they made piggy banks out of recycled bottles for the kids to paint and design at the after school program.
They also taught them the importance of recycling, how to make recyclables into valuables and the history and purpose of Earth Day. You know the old saying "one person's junk is another person's treasure."  The children all received dirt cups, healthy snacks and lunch and juice boxes.  They had lots of fun playing dodge ball and games with a parachute.
Thanks to MDNJ volunteers Christie Kocsis, Kelly Bray, Dawn Lawrence, Christina Kiewkajee, Paul Carbo and Jamie Rankis for taking time out to teach the children at Firth Youth Center about Earth Day.