McWane Ductile Ohio (MDO) holds pre-P2C Challenge
October 25, 2016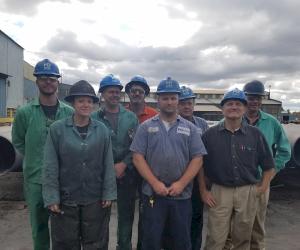 Every year McWane challenges team members to think of ways we can reduce our environmental footprint by holding the Pollution Prevention Challenge (P2C).  MDO felt their participation in the past was hit or miss so this year they decided to hold their own internal contest leading up to the P2C Challenge with $4,000 up for grabs.  Four completed entries were submitted. 

Trevor Dawson and Larry Mounts submitted an idea on how to minimize waste generation by consolidating 401 residual;

Mike Andreas, Jeff Border, Eric Thomas, Brandon Sturtz, Steve Cain, Josh Bowman, Doug McQueen and Bob Dickerson submitted an idea on how to decrease electricity usage with variable frequency drive on hot blast;

Neil Sampsel, Paul Rotruck, Zach Harris and Dalton Brock came up with a suggestion on how to recycle grinding stones and discs onsite; and

Mark Bice, Kenny Guthrie, Wes Dawson, Tim Brink, Richard Gulliams, Rebecca Harstine, Dustin Angle and Sean Powers suggested that we implement a new blacking tank design.

We are pleased to announce that the Casting team blanking tank design was this year's winner.  The implementation of this new design eliminates 250 pounds daily of wasted blacking which cuts back on the hard labor needed to shovel the tanks out every couple of hours.  This project not only has an economic and environmental benefit, it also had an ergonomic benefit. Great job!

All four entries have been entered in the McWane P2C Challenge.  Good luck and may the best idea win.