McWane Ductile-Ohio Participates in Relay for Life Event
May 20, 2015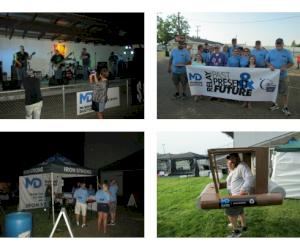 On Friday May 15, the McWane Ductile-Ohio (MDO) team participated in the Relay for Life event at the Coshocton County Fairgrounds. The MDO team raised $20,072.67, nearly double the next closest team, which made them the leading group this year!
Cory Humphries volunteered to participate in the Miss Relay contest while Charles Weaver and Mary Jackson took home the first place trophy in the Road to Recovery race. Our very own Andy Boise and his band SOL took top honors in the "Battle of the Bands." The bands all donated their prize money of $1000 back to Relay.
Congratulations to the MDO team for a fantastic fundraising effort in support of a fantastic cause!