McWane Ductile-Ohio team members enter the Shark Tank
June 7, 2016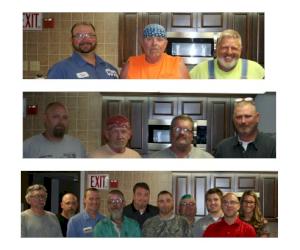 McWane Ductile-Ohio is pleased to report that six teams participated in the inaugural Shark Tank competition held May 26.  These teams from various departments presented their unique improvement ideas, some of which are already in place and implemented.  The panel of four judges chose the winners based on cost and efficiency. 
The first place team of Tom Maust, Doug Kent, Dave Jones and Scott Frank (top picture) won $1,000 each for their idea to increase the number of large diameter pipe on a shipping trailer to better utilize the allowable tonnage limits (increase 30" pipe from 12 to 18 pcs).  This idea presented a potential 5 year savings of $500,000+ on 30" pipe alone.
Coming in second place was the team of Chris Spinks, Francis Lahna, Jeff Dovenbarger, and Neil Sampsel (middle picture) who received $500 each for a press to remove dents from 12"–20" pipe.  This idea presented a potential 5 year savings of $25,000 on 12" pipe alone.
Runner-up ideas by team members that received $250 each (bottom picture) included a podcast to communicate events within the company, an automated way to capture and record bell dimensions on the production line, a method to air test large diameter MJ Wallpipe, and a slide hammer/chisel to aide in removing build up in the ladle lip.
Congratulations to all of the winners of the Shark Tank.  Can't wait to see what you think of next.