McWane Ductile recognizes Legacy Water Group for $1 million in ductile iron pipe purchases
March 30, 2017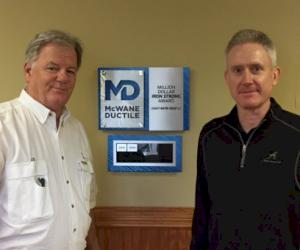 (Pictured from L-R: Mark Accetturo and Mike Dodge)
On March 22, Mike Dodge, VP of Sales and Marketing for McWane Ductile, presented the 2016 $1 million award for ductile iron pipe purchases to Legacy Water Group in Covington, Georgia.  This is the second year in a row Legacy President Mark Accetturo has accepted this award on behalf of Legacy. 

Mark and several other key personnel formed Legacy in 2014.  In this short time, Legacy has proven to be a valued partner for McWane Ductile, but this relationship really goes back more than 25 years to Mark's time with Reynolds Construction and his alliance with McWane Ductile Ohio (formerly Clow Water Systems).  Although some of the faces and even the company names have changed, the bonds have remained strong.  These relationships work to the mutual benefit of both parties, through good times and bad, by always remaining committed to each other and the ongoing success and partnership that we have shared. 

Congratulations to everyone at Legacy Water Group for winning this award two years in a row. We value our relationship and your business.