McWane Ductile-Utah Helps Raise Money for the American Cancer Society
September 8, 2015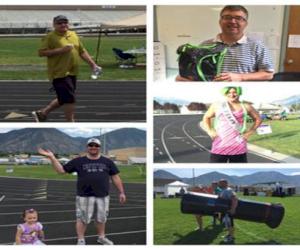 Every year, McWane Ductile-Utah (MDU) team members participate in fundraising for the American Cancer Society Nebo Relay for Life. In fact, they are the biggest fundraising team for the event and this year was their most successful year so far!
MDU had over 75 team members and their families participate on the day of the Relay! They held a raffle for the number of laps walked and Rick Garcia from Maintenance was the grand prize winner of a paid day off. Rick was elated and said, "I will be using this paid day off to go with my 17 year old daughter Valerie when she gets her port taken out." Valerie has Hodgkins Lymphoma and MDU is happy to support Rick in being able to spend this day with his daughter.  Casting Department Head, Richard Simmons won Mr. Relay and Melting Department Head, Nathan Thayne won the prize for the most unique boxcar, the Scrap Mobile.
We are proud to report that MDU donated about $23,500 this year!  As always, they had a lot of fun and are looking forward to next year's event.