McWane Ductile Utah Sponsors California/Nevada Tapping Contest
March 30, 2015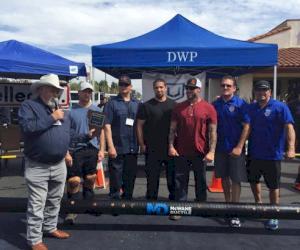 McWane Ductile Utah recently sponsored the California/Nevada Tapping Contest with the top three winning teams moving on to AWWA National Pipe Tapping Contest.  Pipe tapping is a high-energy contest involving a race against time to drill into a cement-lined, ductile iron pipe and install a tap.  Winning teams compete every year at AWWA's Annual Conference and Exposition.
The winners of this year's California/Nevada competition were:
·        1st Place - Norcal Tappers, Brentwood, California
·        2nd Place - SoCal Tappers, Yorba Linda, California
·        3rd Place – Los Angeles Department of Water and Power (LADWP)
Good luck to these teams as they compete in the national show in Anaheim, California in June.