McWane EHS Strategic Plan-EHS Audit Priority Team Visits Tyler Coupling
September 9, 2013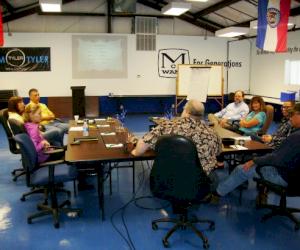 McWane Strategic Plan-EHS Audit Priority Team
The McWane EHS Strategic Plan–EHS Audit priority team met last week at Tyler Coupling in Marshfield, Missouri.   The team is tasked with one goal:  Evaluate current EHS auditing methods and emphasizes processes to achieve broader EHS goals with solution and learning focus.
During the meeting the team toured the Tyler Coupling operation with Bill Hoffman (Plant Manager) as the tour guide.  The team is a cross-functional mix of people from across the McWane family of companies.  EHS Steering Committee member Larry Whitehead (Manchester Tank, Franklin, Tennessee) is sponsoring the team and offers guidance as needed.   Team members include:
Project Team Manager:  Jeff Weatherly, Tyler Coupling, Marshfield, MO
Health & Safety:  Rex Blevins, Atlantic States, Phillipsburg, NJ
Legal:  Bill Marshall, Corporate, Birmingham, AL
Plant Manager/GM:  Jill Drajer, Manchester Tank, Elkhart, IN
Facility Supervisor:  Jose Guzman, Atlantic States, Phillipsburg, NJ
Maintenance:  Ron Cron, Tyler Coupling, Marshfield, MO
Facility Safety Auditor:  Sherry Sievers, Clow Valve, Oskaloosa, IA
Facility Environmental Auditor:  Holly Guerrero, Pacific States, Provo UT
It will be exciting to see what goals and solutions the team comes up with over the next weeks and months.