McWane Fire System Fittings Spotted in Florida
May 28, 2015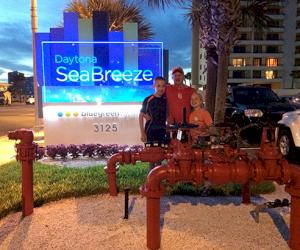 While on vacation with his family in Daytona Beach Shores, Florida, Corporate Group Safety Director Ross Boeker spotted a few McWane products. The fire system fittings in front of their resort contained Tyler Pipe, Tyler Union and Clow components.
As you can see, McWane products can be spotted almost anywhere! Have you seen any McWane products while on vacation or out-and-about? If so, snap a picture and send it in – we'd love to see where our products will end up next.
Thanks to Ross for this submission!