McWane Holds 2013 P2C Environmental Competition
December 16, 2013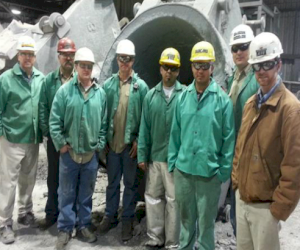 (Pacific States P2C Competition Team)
We are pleased to announce the winners of the 2013 McWane Pollution Prevention Challenge (P2C) contest:
1st Place ($1,000 per team member): Pacific States Cast Iron Pipe – Lime Reduction
2nd Place ($500 per team member): AB&I – Dropout Coke Injector
3rd Place ($250 per team member): MTE Bedford – Raw Material Reduction Hot Oil Tank
A total of 43 pollution prevention project entries were received in July 2013 for this year's Pollution Prevention Challenge. By the deadline of November 2013, 23 of these projects were submitted for judging by three independent judges.
The judges evaluated all the written submittals and selected 10 finalists. The 10 finalists presented their projects via a web meeting on December 12, 2013 after which the judges picked the winning entries.  Judging this year's competition was:
Kristin Belcredi (Keramida)
Tom Kunes (Kestrel Management Services)
Dan Oman (Haley and Aldridge)
All of us, including the three judges, were very impressed by the innovative ideas, presentations and the keen interest and passion shown by participating team members from different McWane facilities and departments (production, maintenance, engineering, environmental, etc.) in identifying and implementing effective pollution prevention ideas. In addition to the significant environmental benefits achieved by implementation of all the 2013 P2C projects, estimated savings in annual costs will be in the $1 million range!
To continue to encourage implementation of more pollution prevention ideas at all McWane facilities, the "Why Didn't I Think of That" Award for entries with innovative, simple and low cost solutions, producing relatively small but important environmental benefits. Winners of the Why Didn't I Think of That! Award are:
• Kennedy Valve – Stormwater Improvements
• Clow Valve, Oskaloosa – TGIC Reclaim Expansion
• MTE – Elkhart – Round Seam Flux Elimination
We hope to see a continued high level of interest in Pollution Prevention at all McWane facilities going forward. Congratulations to this year's winners and thank you for your interest in the 2013 P2C and your support of McWane's EHS program!