McWane Honored by WinWholesale
March 30, 2012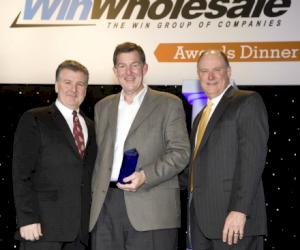 We are proud to announce that WinWholesale, one of the nation's largest distributors, has selected the McWane Valve and Hydrant Group as its 2011 waterworks vendor of the year. This award was calculated by polling all of the Winwater branches asking which of their vendors provided them with the best customer service, quality and ease of doing business. Clow Valve, ADS and Star Pipe Products were chosen from a large number of vendors as the three finalists for the award.

Mike Vore, V&H Sales and Marketing Manager, accepted the award on behalf of the Team at WinWholesale's Vendor Showcase Award Dinner that was held on March 13 in Nashville, Tennessee. Mike commented, "I think this award is difficult to get and will be hard to hold onto unless we continue to improve our performance at every opportunity. We must consistently continue to raise the bar on ourselves to make sure that we are providing our customers with the best customer service and product quality in the industry."
In a Press Release from the Company, Jackson Johnston, Win Wholesale President said, "WinWholesale had another successful year due in part to our partnerships with McWane's Valve and Hydrant Group to serve our customers. They represent the best of the best among our many waterworks vendors the past year."

We appreciate the hard work and dedication of the entire Valve and Hydrant Team!