McWane Partners with Local Elementary School
April 30, 2013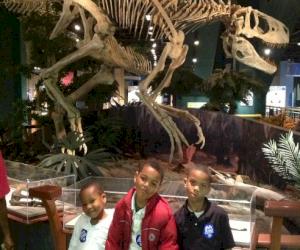 Norwood Elementary Students at McWane Science Center
Schools face enormous challenges these days in preparing students for the future.  Unfortunately, they cannot meet these challenges alone.  The entire community – businesses, civic groups, parents, etc. must work together to provide a learning environment where young people can grow and develop.  For the past 5 years, McWane has partnered with Norwood Elementary School in Birmingham, Alabama to help their students reach their full academic potential.
Volunteers from McWane help students in after school reading programs, provide medals/awards for awards day and coordinate an end of the year field trip for the entire school (138 students) to go to the McWane Science Center.
McWane Science Center features four floors of interactive exhibits. All exhibits celebrate science and wonder - from an amazing collection of dinosaurs to innovative environmental showcases, imaginative early childhood playgrounds, and an awe-inspiring aquarium.  They also have an IMAX® Dome Theater that puts you in the center of the action by projecting breathtaking quality images onto the 5-story-tall dome screen and delivering intense surround sound through almost 3 tons of speakers and subwoofers.
It was an exciting day and a real treat for everyone that made the trip!