McWane Sponsors Mayor's Prayer Breakfast in Anniston, Alabama
May 1, 2013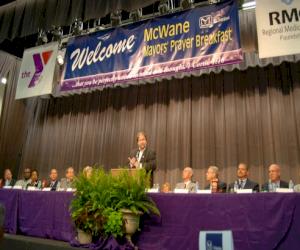 Pulitzer Prize-winner Rick Bragg Speaks at McWane Mayor's Prayer Breakfast
McWane has three facilities in Calhoun County, Alabama which encompasses seven different cities - Oxford, Jacksonville, Weaver, Hobson City, Ohatchee, Piedmont and Anniston.  McWane's TylerUnion, M&H Valve and American R/D, all located in Anniston, employ 552 team members that live in the seven surrounding cities.  TylerUnion Assistant General Manager Steve Johnson is on the Anniston YMCA Board of Directors, and when he learned that they were planning a Prayer Breakfast that would bring together the Mayor's from the seven surrounding cities he knew it was an event that he wanted McWane to sponsor.
The Calhoun County economy was hit hard when Ft. McClellan was closed as an active Army installation in 1999.  At the time of closure, Fort McClellan was home to the U.S. Army Chemical School, the U.S. Army Military Police School, the Training Brigade, and the Department of Defense Polygraph Institute.   But Tyler Union, M&H Valve and American R/D have remained as mainstay employers in Anniston.
The McWane Mayor's Prayer Breakfast was held on May 1 and more than 450 people attended the event to not only pray for the communities, but to hear special guest speaker and Pulitzer Prize-winner Rick Bragg.  Rick was born and raised in Calhoun County so it was more a homecoming for him.  Rick grew up just outside of Jacksonville, Alabama.  Some of you may be familiar with Rick's book "All Over but the Shoutin" which was published in 1988 and was followed by a series of bestselling, autobiographical works.
It was a wonderful day of coming together to pray for the communities, families, military, community leaders and our nation.  Everyone left the event with renewed hope for Calhoun County.