McWane VPP Forum Hosted by Clow Water
March 15, 2013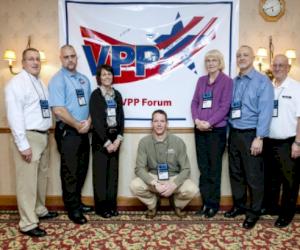 (Pictured L-R: Clow Water Team Members Shawn McGarry, Brian Daugherty, Debbie Ringwalt, Andy Boise, Mary Chema, Frank Kline and Kent Arnold)
The 2013 McWane VPP Forum hosted by Clow Water in Coshocton, Ohio is now over, but the
excitement about VPP remains.  McWane Team members are excited about the prospect of achieving VPP status and it shows.  At the recent forum, team members shared their experiences from their VPP journey and offered support to those facilities that are just beginning their VPP journey.
What was clear throughout the Forum is that employee engagement is critical!  We have to engage our entire team, not just management and not just production. Everyone must be engaged and committed to VPP in order to be successful.
Frank Kline, Clow Water Safety Manager, kicked off the VPP Forum by sharing the history of their VPP journey.  "When we first  started our journey, we knew it would take some work," Frank said.  "But we also knew that with everyone working together we could do it." "In this process we have learned that we have to trust our team members as everyone's input is valuable.  We have shown that VPP is good for everyone!"