MIPL celebrates World Environment Day 2017
June 13, 2017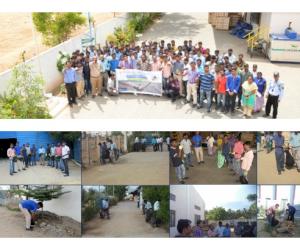 World Environment Day (WED) occurs on June 5th every year to raise worldwide awareness about the importance of protecting the environment. The theme for this year's WED was connecting people to nature. McWane India Private Limited (MIPL), as in prior years, celebrated WED at the valve manufacturing division (VMD), machine tooling division (VMD) and the Time Square (TS) office located in Coimbatore, India.

They kicked off the celebration by hoisting the environment day flag followed by a special speech by managers and shop floor team members. Several activities were planned throughout the day including a WED themed street play, sapling planting, community clean-up, vehicle emission camp, and environment day pledge.

The MIPL team challenged team members from the VMD and MTD to clean-up their work stations and surrounding areas to improve their work environment. A vehicle emissions camp was also conducted at the VMD to ensure that emissions met the mandated requirements to avoid creating any adverse effects on the environment. A total of 54 vehicles were tested.  They held other challenges throughout the day including a competition where team members submitted EHS suggestions.  They also participated in an EHS quiz and take home activity and competed for the best EHS slogan & poem.  Over 130 prizes were awarded throughout the day.

WED is for one day, but at McWane we focus on pollution prevention and minimizing impacts and risks to the environment from our operations each and every day. All levels of management at McWane and team members company-wide understand and support this vision and continually work to improve our EHS performance.