MWI & Kennedy Valve Host Kenbri
June 22, 2012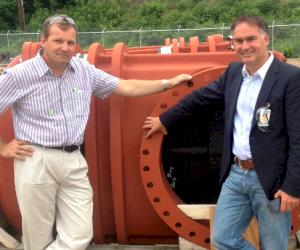 Team Members from McWane International and Kennedy Valve recently had the opportunity to host a visit from Edwin Hobbel, Director of Kenbri Inc. Kenbri is a sales and service organization founded in 1984 and they have been a customer for 28 years. In fact, they came up with the name Kenbri because they sold both Kennedy and Brighton products. Today they no longer sell the Brighton product line, but the Kennedy products remain the backbone of their business.
Kenbri has a precense in the Netherlands, Belgium and Indonesia where they deliver and maintain fire fighting equipment and vehicles for both municipal and industrial fire departments. Kenbri's motto is we will do anything for you, except fight the fires (in Dutch this motto is much shorter "alles behalve blussen").
During the visit, Arne Feyling spent a considerable amount of time showcasing the latest production improvements at Kennedy Valve.