Pacific States helps Alisha Cleaver take humanitarian trip to Uganda, Africa
April 2, 2013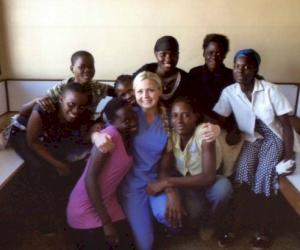 In the U.S. if you are thirsty you simply turn on the tap and presto, clean water.  At McWane we're proud of the role that we play in bringing clean water to the world.  But what would you do if you lived in Uganda, Africa and did not have access to this critically important resource?  Uganda is blessed with fertile soil, ample rainfall and a number of vital natural resources which have helped Uganda's economy remain relatively stable, however, 40% of Ugandans still lack access to clean water and 25% live below the poverty line. 

That's why Pacific States was particularly honored to have the opportunity to donate to the Helping Hands Foundation to assist Alisha Cleaver (wife of Nick Cleaver, Pac States Maintenance Supervisor) and a dental group in making a humanitarian trip to Uganda.

In a thank you note to Pac States Alisha said, "Thank you so much for the generous donation and for making it possible for me to have this life changing experience!  We were able to provide over 70 deep cleanings, 20 extractions and 150 fillings on women, children and missionaries."
At McWane and Pac States, we believe in helping those that are less fortunate, whether they are right next door or far away in Uganda, Africa.  After all, it's the right thing to do!