Something Old, Something New - Something Borrowed, Something Blue
January 20, 2015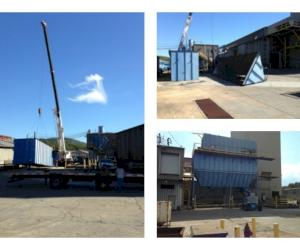 If you've been to M&H Valve in Anniston, Alabama recently, you may have noticed that the old Cleaning Baghouse #2 is gone. You know the old saying "one man's junk is another man's treasure," well that was surely the case for Kennedy Valve who contracted with Moore & Thompson to remove the blue baghouse at M&H Valve and move it to their facility in Elmira, New York. Not only are we making our products from recycled material, we are recycling our equipment among our family of companies.
We couldn't be more pleased that something that was no longer needed M&H Valve, but still had lots of life left could be used at their sister company, Kennedy Valve to help control their air emissions.
This is yet another way that team McWane is working together to help us be the absolute best that we could be.