Step Right Up, Test Your Strength at McWane Ductile Utah
June 22, 2015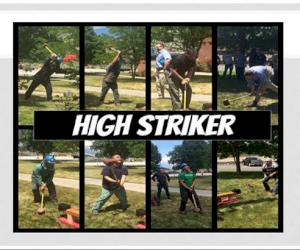 One of the activities planned for the McWane EHS/Awareness Month at McWane Ductile Utah was a high striker contest.
Do you know what a high striker is?  A high striker is an attraction used in funfairs, fundraisers, and carnivals. You've probably passed by a high striker at a carnival and seen a contestant using a hammer or mallet to strike a puck with enough force to ring the bell to win a prize.  Of course the high striker has evolved and they now use a spring-loaded version of the lever.
The competition was fierce and everyone had a great time during this EHS/HR teambuilding activity.