Teamwork at Atlantic States to Export Ductile Iron Pipe to Djibouti- Africa
January 20, 2015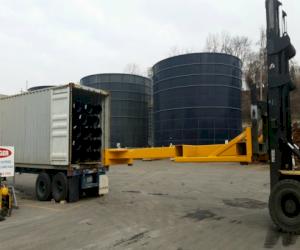 The Atlantic States team has been working together on a project with a team from McWane International to develop procedures for container loading of ductile iron pipe for export from their facility in Phillipsburg, New Jersey.  This particular project required Atlantic States to supply 16,600 feet of 12", 900 feet of 8" and 600 feet of 6" diameter pipe for export to Djibouti–Africa. The pipe will be delivered to U.S Navy Camp Lemonnier which is the only American base located in Africa. Djibouti sits on the horn of Africa and supports approximately 2,500 joint U.S and allied military and civilian personnel and U.S. Department of Defense contractors (Military Bases.US).
The Atlantic States team of Hal Eddings, Bill Cochran, Fran Tone and Steve Shambeda, along with the Shipping and Safety Departments worked closely to perfect the process for loading export containers.  A unique pusher which attaches to the forklift was designed to help push the pipe into the cargo container and job procedures were developed by and for the Shipping Department for future export orders. Once the export container leaves Atlantic States, it will be loaded on a cargo ship and sent overseas to its destination. This is not an easy task because the pipe has to be arranged to fit the export load container and bundles have to be secured so the pipe does not shift inside the container during transport.
A project of this magnitude could only be successful if everyone involved came together to work on a solution.  Special width bundles were prepared by the finishing department; the entire shipping team banded; and prepared the bundles for container/export and shipping documents were prepared and sent to the McWane International team to coordinate with the freight brokers.
By loading the containers at Atlantic States instead of the port, the company will save money which will help McWane International secure orders in a very competitive global market. This project definitely can be classified as a true team effort by two divisions of McWane.