Tyler Coupling celebrates VPP Recertification
October 8, 2019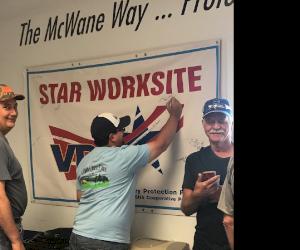 Tyler Pipe & Coupling in Marshfield, Missouri recently celebrated their VPP Star reapproval with an appreciation luncheon for the entire team. Team members were treated to ribs, fried chicken, sides and cake. They also received a commemorative Tyler blue jacket.

The team spent the morning mentoring guests from Cintas Uniforms who are embarking on their VPP journey. The VPP Committee members and Management team shared their VPP story and what it takes to create a true safety culture.

Team Tyler is committed to paying it forward by assisting other facilities that are interesting the achieving VPP certification.